Dermal Fillers in Edmonton
Getting older isn't too bad, but skin aging is less fun. Don't worry as dermal fillers may help. Looking a little older can be great, but sometimes our face and neck are worse than we would like. For that, Dr. Kamal Alhallak, Ph.D., offers dermal fillers to plump and nourish the skin.
"One of the fastest ways to look younger without surgery is dermal fillers," said Dr. Kamal Alhallak, founder of Albany Laser and Cosmetic Center in Edmonton. "These safe, effective injections are perfect for making your face and neck look younger. The key to a youthful appearance is to re-plump the areas that have begun to get hollow or to sag."
As we age, our skin makes less collagen and less hyaluronic acid. That makes our skin sag and creates wrinkles. It happens to everyone eventually. Some of us will look great right into our forties and fifties, but there are always those lines and dark circles to contend with.
Type of dermal fillers
There are three types of fillers in the cosmetic industry
Hyaluronic acid fillers
cross-linked HA fillers are temporary fillers. They give instant results and are reversible, however, they are temporary (last between 6-18 months)
Collagen inducers
Sculptra is the most famous collagen inducer. The PLLA microspheres in Sculptra are not filler themselves, however, they work as a scaffold to help natural collagen production. Sculptra takes 6-8 weeks to show results (gradual collagen-building process), and it might last 24 months.
Bovine Collagen products
Belafill contains ready-to-use bovine collagen. Therefore, this filler gives instant long-term results, but they are irreversible.
Where do we inject dermal fillers
We inject fillers all over the face: the cheeks, under the eyes, in the lips, in the chin, and much more. It's a safe and simple way to look better. There is almost no recovery time and, other than a small injection or two, the process doesn't break the skin.
Cheek fillers - Although we have cheekbones, much of our youthful appearance is created by our full and rosy cheeks. Over time, and with other factors like the sun and smoking, could damage the skin and the collagen in that area disappears. That gives us that familiar sunken cheek look that older folks have. With a filler, like Juvederm, your cheeks will look full and healthy again.
Nasolabial folds - These are those lines that go from your nose to the corners of your mouth, but fillers injection can eliminate them. Usually, we combine the nasolabial-fold correction with a cheek filler procedure. Together, this can take years off of your face.
Marionette lines - Those lines that come down from your mouth to your chin that look like a marionette's mouth are among the most vexing wrinkles to do anything about. It requires that you get filler in that skin and eliminate those lines.
Lips - As we age, our lips tend to get thinner due to the loss of collagen and hyaluronic acid. Smoking and a lifetime of the sun can give us a lot of small lines around our mouths. Using dermal fillers, we can restore those full, pink lips you had when you were younger.
Forehead - Adding dermal fillers to your forehead can help to eliminate lines and wrinkles. The filler helps to support the skin on your face and will instantly make you look younger.
Recessed scars - If you have scars on your face that are hollows, such as the ones caused by acne, dermal fillers can help to eliminate them. Dr. Kamal will gently inject a filler into the scar and it will instantly disappear.
How do cosmetic dermal fillers work on facial rejuvenation?
The process of cosmetic fillers is simple. It starts with an asset by Dr. Kamal who will recommend the best products and procedures to achieve the results you'd like. Once a decision is made about what to do, Dr. Kamal will use a local anesthetic to numb the area. Then he will inject the right filler under the dermal layer. The whole procedure, from entering the examination room to leaving Albany Laser and Cosmetic Center can be as few as 30 minutes. There is very little recovery time, although you will likely be told to stay out of the sun and to avoid cosmetics for a few days while the injection sites heal.
What dermal fillers does Dr. Kamal use?
There are several dermal filler products available. Allergan manufactures Juvederm, the most popular filler. Galderma makes Restylane. These fillers have different thickness for different areas of the face. Juvederm Voluma is perfect for cheeks and facelift effects. It's thicker and can support the skin and better. Around the eyes, we'll use a thinner filler like Volbella.
Another excellent choice is Restylane made by Galderma. The Canadian Market has welcome several new fillers recently
Dr. Kamal will look at your skin and your needs and will choose the proper filler for each part of your face. We also offer Sculptra, which induces collagen production, and Bellafill, which is bovine collagen.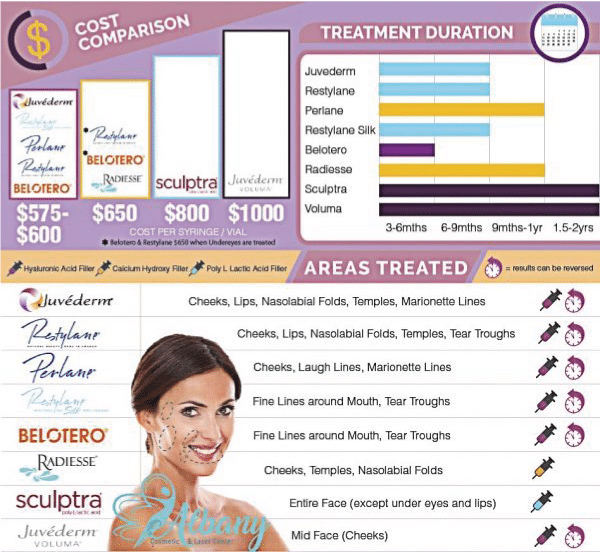 Dermal fillers versus Botox
Hyaluronic acid fillers help to put the plump back into the skin. Botox, on the other hand, paralyzes the muscles under the skin. This gives it a flatter, less wrinkled appearance. In other words, we inject Botox mainly for forehead, glabella (those little lines between your eyebrows), and crow's feet (smile lines).
Filler work nearly everywhere on the face, cheeks, lips, chin, marionette lines, bunny lines, forehead lines, and more. The natural hyaluronic acid in the fillers is, in fact, good for your skin.
There are times when Dr. Kamal will use fillers in one area and Botox in another. These two cosmetic therapies complement each other and can make one's face look years younger in just a few minutes.
What type of dermal fillers do you need?
The best way to know what you need for your wrinkles is to meet with Dr. Kamal. During the meeting, he can offer you solutions that range from injections to laser therapy to the Botox treatment plan.
All of the procedures done at Albany Laser and Cosmetic Center have little or no invasive aspects. Recovery times are very short and all of these procedures are safe and very effective.
An option other than fillers?
Some people are scared to have a facial injection or prefer to go the natural way. Therefore, we offer natural options that rely on laser and HIFU such as Fotona and Ulthera